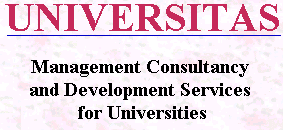 ---
Universitas is a UK-based international consultancy committed to improving the efficiency and effectiveness of higher education and its management.
Universitas carries out management development, consultancy and training projects using the expertise of consultants with senior management experience in universities and colleges, from the UK and other countries. The Partners in the firm are former senior university managers with extensive consultancy experience.
Common themes in our work in many countries are: strengthening the managerial capacitiesof universities and colleges in support of institutional autonomy; and devising forms of accountability appropriate to a pluralistic, efficient and responsive higher education system.
Universitas ensures that its consultancy teams bring with them not only professional breadth and depth in the field in question, but also an understanding of the social and economic context in which their expertise is to be applied.
---
Areas of higher education management in which Universitas has particular strengths are: